In April I suggested that, between the bear market and bubble reflation, the latter was the more likely scenario. So far so good.
Presently economic data is the worst we've seen in the living memory and stocks close to most overvalued ever. Now we have mass riots. Nonetheless stocks rise…
As David Zervos recently said, looking at economic data is a waste of time. He was right; there is one overwhelming force that's driving stocks – all else is noise.
In spite of VERY bad economic data, equities are re-inflating furiously – the scenario corroborates the prediction I made in my April 9 article, "Bear Market or Bubble Reflation: What Comes Next?" Please have a look at it, particularly the stock charts from similar historical experiences (which is why i say 'right off the cliff' in this article's title).
Economic data is the worst in living memory
As Fed chairman Powell recently put it, the data "is quite worse than any data we have seen for the economy." Unemployment figures have deteriorated dramatically with the Bureau of Labor Statistics baseline unemployment vaulting to 14.7% and the more realistic "U6" measure now at 22.8%![1]
The GDP contraction was estimated to be 13% (peak-to-trough), three times as bad as the 2008/9 "Great Recession" which resulted in a 4% contraction which was the worst post-war recession until then. And now, right on the back of the pandemic lockdowns we have riots, mayhem and destruction…
Yet stocks are high and surging.
None of this is good for business and the S&P 500 Earnings per Share consensus estimates collapsed -28% from $178 to $128. This all made current stock prices most expensive they've ever been: the 24-month forward P/E ratio is now highest on record.
With the current GDP measures, market cap to GDP is close to historical highs, but when the Q2 2020 GDP data is released, they'll likely be highest ever (the last peak, on 19 February 2020 was 158%).
So why are stocks not selling off? What force is moving them higher? Well, about that…
The most important thing to understand about stock prices…
…is that there is one key force driving the booms and and the busts. It's not the earnings, employment, GDP numbers… All that is somewhat relevant, but the key is monetary inflation driven by the Federal Reserve (and other central banks).
I marvel that it took me over 20 years in the markets to work this out. My full article explaining this phenomenon is here:
"The One Force Moving Stocks and What it Tells Us About The Future"
The article is not very long nor technical, but it's probably one of the hardest-won bits of knowledge I gained. Yet it should be common knowledge. The following table condenses the data – and while the relationship is not linear – the correlations are too strong to dismiss: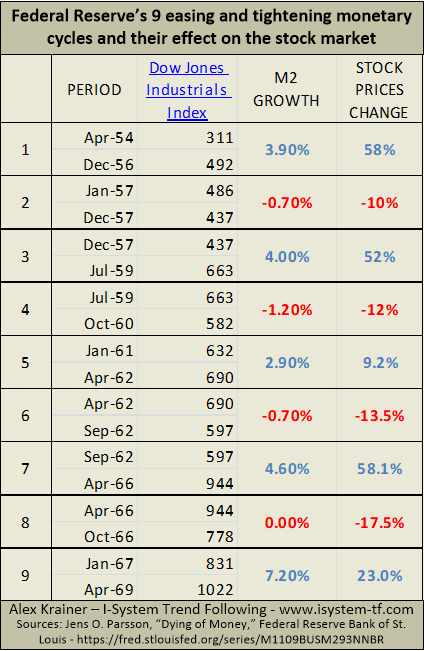 The ultimate outcome given the central bank intervention with unlimited monetary inflation could turn out to be the Weimar Republic scenario as the following chart illustrates:
This may still appear unthinkable. However, much about today's reality might have seemed unthinkable years or even only months ago. We are in unchartered territories and it may be prudent to prepare for unthinkable scenarios.
As Jefferies' managing director David Zervos recently stated, "looking at economic data releases or focusing on corporate earnings is a colossal waste of time." Today it is all about the central banks and the toxic distortions wrought by their printing presses.

I-System strategies will prove a good way to prepare and navigate the unthinkable developments of tomorrow.
Sign up for a 1-month free trial of I-System TrendCompass!
One of the best trend following newsletters on the market, I-System TrendCompass delivers consistent, dependable and effective decision support daily, based on I-System trend following strategies covering over 200 key financial and commodities markets with no dilution in quality or focus.
Cut the information overload
Get real-time CTA intelligence in seconds per day
Never miss a major trend move
Navigate trends profitably, with confidence and peace of mind
One month test-drive is always on us. Sign up for a 1-month FREE trial by e-mailing us at TrendCompass@ISystem-TF.com
To learn more, please visit I-System TrendCompass page.